WESTMINSTER ABBEY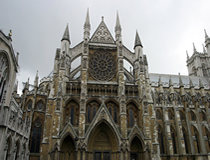 Westminster was constructed in 11th century by St. Edward the Confessor. In 1045, King Edward added a huge land donation and started the construction of an impressive Romanesque-style church which was consecrated twenty years later. The church suffered severe damages during a fire in 13th century and was restored in Gothic style by King Henry III, a French king.
Between 1503 and 1519, a new section called the Lady Chapel was built. It has some Renaissance influences as it was designed by a few Italian artists. Some Renaissance influences are also visible in the interior which you may find it visually appealing. In 1540, the Benedictine monks left the church, under the reformed Anglican. Elizabeth I remodeled the monastery twenty years later.
MAIN FEATURES :
Kings, queens, soldiers and statesmen; priests, poets, heroes, villains and scientists - the Westminster Abbey is an important living pageant of UK history. Occasionally, you will hear pleasant angelic singing of a boy's choir that permeated the entire church, beautiful old latin hymns will transport you back in time hundreds of years as you walk through the old tombs of many English kings and queens. Every year it welcomes over nearly a million visitors who seek to explore this memorable 700-year-old church. Among those buried in the church are Charles Dickens, Laurence Olivier, Elizabeth I and Henry VIII.
The guides will tell you about fascinating stories and tales of each tomb. You will find that the abbey is an important part of England's dark and bloody history with plenty of complicated plot-lines, the place unquestionably feels alive with shadows of great men and women. You are not allowed to take photographs inside the abbey because the church is concerned with what the pictures of the Westminster Abbey will be used for, also it may disturb other visitors
You should also see the coronation chair, the exact spot where all England kings were crowned. On it you'll see a graffiti carved in 17th century by a mischievous choir boy when no one was looking.
Some vital information for visitors::
- Operating hours:
The Westminster Abbey is open for public at Monday – Friday 9.30 AM – 3.30 PM, Saturday 9.30 AM– 1.30 PM.
Closed for worship in Christmas Day, Good Friday and every Sunday
-The admission fee is £ 15.00 for adults and free for children under 11 if accompanied by adults.
No entrance fee required for the St Margaret's Church, College Garden, Museum and Cloisters.