Useful travel tips to follow if you travel with kids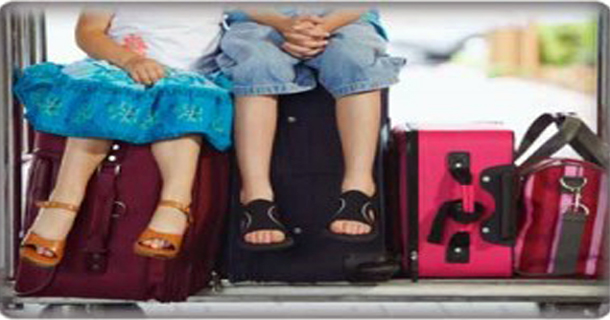 Some parents would say that there's no such thing as a vacation with the kids. But a relaxing and enjoyable trip with the whole family is possible-you've just got to learn the tricks. You can't simply load the kids into the back of the car and take off. A bit of preparation will help take the bumps out of that long road.
Involve your kids in the planning stages of their trip. This will give you a better idea of what they really want to do and it will teach them a bit about preparation. Buy them a kids' map and teach them how to navigate the route.
Kids will want to buy every souvenir they can get their hands on. A great way to teach them how to budget is to give them a certain amount of money at the beginning of the trip, and then talk them through each "I want that!" so they understand if they do buy that "I love Oklahoma" pen, they will only have $X to spend for the rest of the trip.
Keep them occupied in the car with various games, activity books, music and books on tape.Pack drinks and snacks, but make sure you have control over the portions. A whole bag of chips will go down the hatch in a flash if you're not watching. Including a combination of both healthy snacks and junk food on the trip will ensure that everyone is satisfied.
Make everyone get out of the car at rest stops for a leg stretch and a bathroom break. Kids may say they don't have to go, but 10 miles down the road nature will call. Be aware that rest stop areas can be seedy, so don't leave kids unsupervised in the car or in the restrooms.
During the day, plan lunchtime picnic stops instead of meals at fast food chains. Not only will the food be healthier, but the fresh air and opportunity to run around will provide a well-earned break for the "are we there yet?" askers.
More Travel Tips :
- Tips to keep Money Safe When Traveling
- TOP European destinations for summer 2010